When I think about how I came up with the Anti-Gravity Chair design, I cannot recall anything else but a sketch in my note book. It was the mid-80's — photos were still precious and uncommon for such "profane" sights — with this engineer, i might eventually remember his name, sitting, actually hanging, in his chair in front of this (at that time gigantic) 21" screen and thinking of a way how to make his computer program work. But it was not until I saw Felix at on expensive chair with his legs under his buttocks while he was leaning towards the screen when I realised that there should be a healthy and enjoyable solution rather than such an everyday's torture. 
The fact that we had a very interesting visit from an ergonomics specialist who explained to us how to sit correctly, and what distance to the screen should be the ideal reading distance, didn't change anything in peoples' behavior. My observations repeated themselves over and over again. People don't sit the way they're supposed to. They want to lean forward. They want to lean back. Some want to be as much as in a lean chair.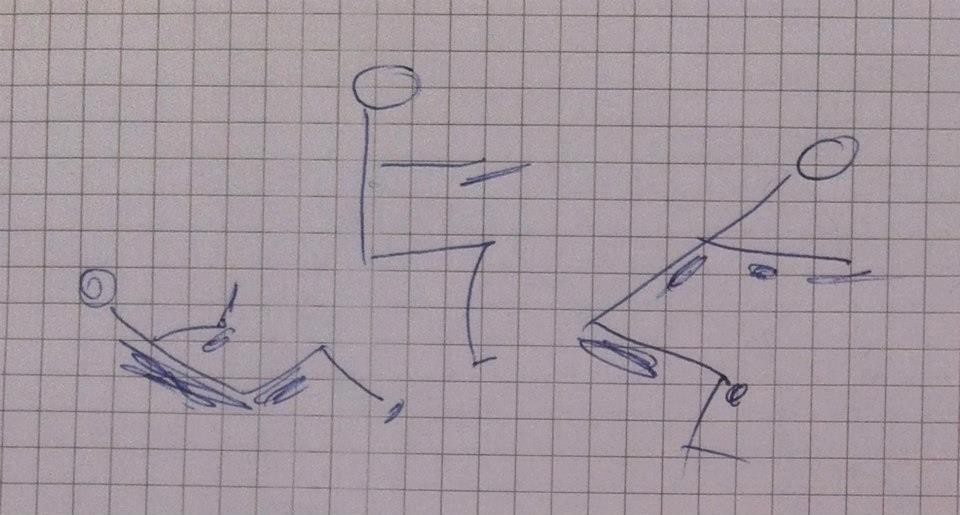 At this point the problem was clear. But the key was how to solve the challenge naturally. It is not the person who has to concentrate on their posture, it's the furniture that has to support them in their urge to feel comfortable. If you want to lean forward, you should be able to, without obstructing your blood flow. If you want to lean back, you should be able to do so, without having to use binoculars to read from the screen. To achieve this, I needed not only a chair that lets you have your will, i also needed the screen, and with it the keyboard, to follow your movements. Like in a space station, you should be free of gravity contracting your spine. But how to achieve this?

The solution came in portions. One milestone was the all-in-one computer. Everything you need is in one box. You could hang the computer to the ceiling if you wanted to lay down. But what about the keyboard and the mouse? This was solved by the trackpad a couple of years later. No more movable tiny box with wheels, just a smooth piece of metal.


Now it was time to fix everything to a frame that gives you a free floating feeling. Of course the space station comes back to mind. Naturally, you do not only want to move freely, you also want your feet to be supported. And of course this space station should embrace life, should have an organic touch, fundamental roots in life itself. Therefore it is not cold, sterile metal but warm and cosy wood as the material of choice.

So here it is: the Anti-Gravity Chair in its protective form as a flower bud. You enter your own personal universe. All you need is around you, moving with you, keeping you and your tools handy and safe in place.